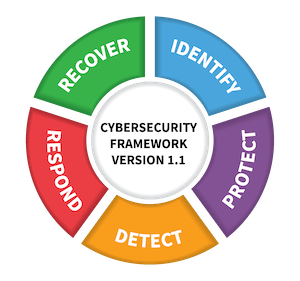 PolicyCo now includes the NIST CSF framework.
We recently added the NIST Cybersecurity Framework (CSF) to the PolicyCo platform, complementing HIPAA, SOC2, and HITRUST. PolicyCo makes it easy for you to align your security program to NIST CSF without disrupting your existing mappings. NIST CSF is an important framework for companies transforming their organizational security and risk posture from a reactive to a proactive approach. The NIST CSF is applicable and deployable across nearly any industry and industry segment. It's inclusive and easily customizable to address the cybersecurity needs of your business.
We asked Darin McCloy, PolicyCo's CISO, his thoughts on the framework. "PolicyCo chose to incorporate the NIST CSF due to its wide and gaining adoption and the high regard it receives for its flexibility, repeatability, and clarity. The NIST CSF is also widely adopted as the basis for third party risk management programs due to its applicability to vendors from any industry."
This new addition to PolicyCo will help streamline your cybersecurity efforts.
Our in-house vCISO expertise guides you as you begin your compliance journey or level up to a higher state of compliance and cyber security maturity.
Interested in having all of your policies, procedures, controls, evidence, and much more, all in one secure platform? Test out a free account today.